ok, so someone needs to come over and cut my credit card up into teeny tiny little pieces.  i've been desperately seeking different outlets for my creativity since acquiring all this newfound free time post-layoff, and i finally went out last week, bought a hammer, and decided to attack the white, naked walls of my apartment.  
jessie
and i have been spending the past couple of sunday afternoons painting, so i had a few canvases i wanted to tack up in my living room in addition to the slew of framed postcards and photographs i've got hanging around.   i don't have any "before" pictures, but here's a look at my humble abode in its current, more aesthetically pleasing state:
first, a shot of the boudoir: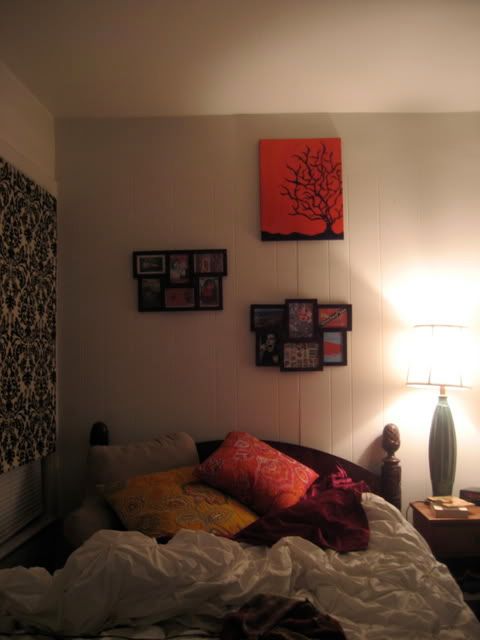 and some [blurry, sorry] shots of the living room:
and then, after i put the hammer down and the picture hooks away, i.
couldn't
.
stop.
the pictures looked great and everything and painting was fun, but i wanted more. i wanted new chairs! i wanted a bookshelf for the cookbooks i don't have in my kitchen! i wanted a standing coat hanger and another dresser for the bedroom and more paintings!  so, what did hil do, ladies and gentlemen? like a crazy person, she stopped into that adorable little antiques & restoration haven down the street from her apartment and she bought THIS:
a gigantic, hil-sized map of south america.
I DON'T HAVE A JOB AT PRESENT.  WHY AM I DROPPING CASH ON A MASSIVE MAP OF SOUTH AMERICA WHEN I COULD BE SPENDING IT ON FOOD OR INTERVIEW CLOTHES OR I DON'T KNOW SAVING IT.  RAHHHHH.
(i would be lying, however, if i said i wasn't obsessed with it.  it's pretty great. the bookcase underneath it was part of the purchase as well and i got both for a fantastic price but STILLLL i shouldn't be doing that i know better ugh.)