i just posted this on los' fbook wall.  i figured i'd share the love with you, too.
as much as i want to write about how spontaneous and awesome it was to run to the back of the somerville theatre last night to greet U2 after their
super secret surprise show
, i'm too tired right now. i have no idea why, either, seeing as i got plenty of sleep last night. (ok not really but i got more than 7 hours, i think, so i shouldn't complain.)  in lieu of talking about how much i love bono and how genuinely happy he seemed to see the crowd who had come out just to say hi, i'm going to write a happy list.
THINGS THAT MAKE HIL A HAPPY CAMPER! (in no particular order):
+coffee and ginormous chocolate chip cookies from
1369
.  mikey and i hit up 1369 after a fantastic visit to the ICA (see below) and the cappuccino i had was one of the best caffeinated concoctions i've downed in awhile.  (i usually consume between 4-6 shots of espresso a day, so this is big.) 
+the
interlock mini skirt
from american apparel.  i have it in black and eggplant and i wish it were springier outside so that i could wear either one with leggings and cute little flats and not have to worry about getting said cute little flats all muddy and gross.
+"back to the future": i own the complete trilogy and watched the first installment while awaiting the arrival of marcy, chris and andrew before our bono sighting.  los and i are thinking of going as marty and doc next year for halloween, but only if
this brilliant plan
falls through.  (jessie i know what you're thinking but I ALREADY HAVE THE PURPLE SKIRT AND THE GLASSES OK!)
+
shepard fairey
.  i went to his show at the
ICA
today and found it to be inspiring and humbling and it made me wanna go home and create something.  the arrangement of the exhibit was exquisite, the presentation was superb, and i absolutely plan on taking advantage of the free ticket i scored sometime next week.  his
guns and roses
poster is now prominently displayed in my kitchen.
+buenos aires.  this time last year los and i were prepping and packing for a weeklong stay in my second home.  to say that it was incredible, that whole returning-to-my-favorite-city-for-the-first-time-since-leaving-it-with-my-best-friend-in-tow thing, would be a gross understatement.  some favorite shots from our trip to buenos aires in march of 2008: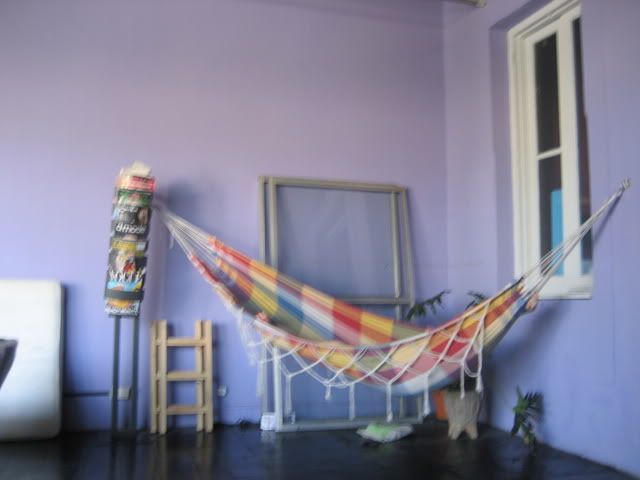 los hanging out in the hammock at our hostel in palermo.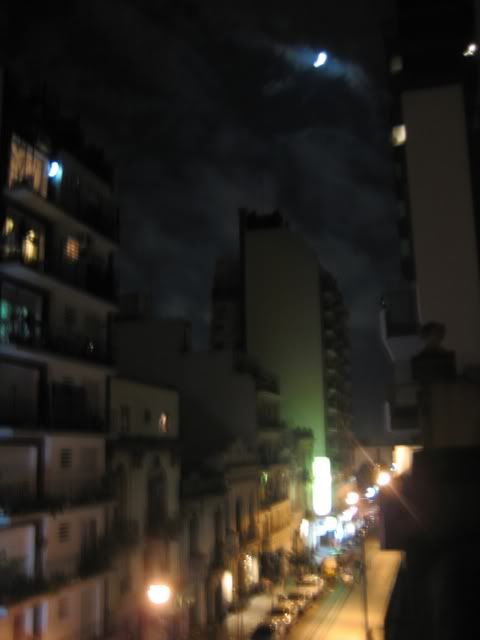 we got to catch up with tony, one of my good friends who i had studied with while living in buenos aires in 2006, and this was the view from the roof of his apartment building on charcas.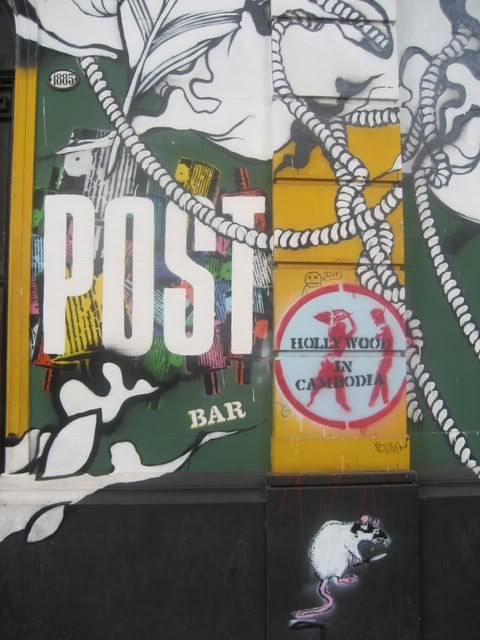 the graffiti and street art that plasters the walls of capital federal is amazing, and this was one of the many murals we spotted on the entrance to a restaurant in palermo.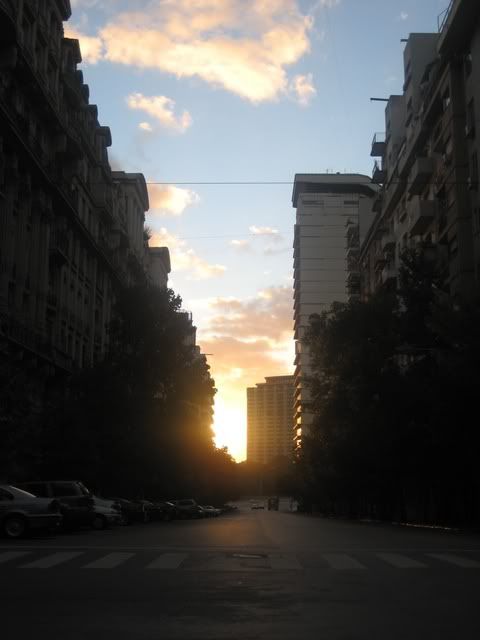 i stayed out with a bunch of newfound friends 'til dawn my last night in BsAs and was able to snap this shot while walking home that morning.  sunrise on rio de la plata? this doesn't even begin to do it justice.
so, anyways!  that's the march 12th edition of the happy list.  what's making you smile today, ladies and gents?