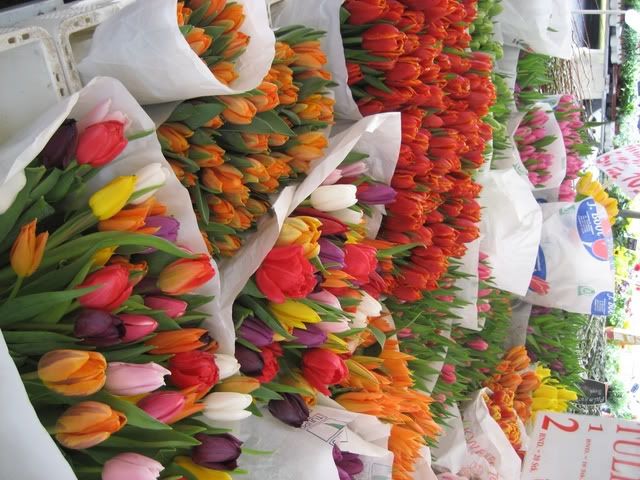 SPRIIIIING.  these tulips were shot in the naschmarkt of vienna during slovak attak '07.  everyone should be looking at flowers in SOME capacity today.




+ eat something?
  i have absolutely nothing to eat in this house except for fruit, easter candy and greek yogurt, so it looks like i'm going to have to go grocery shopping after the gym today.  i would rather be doing breakfast at
the biscuit
but i've been really lazy regarding my fitness, so strawberries, honey and greek yogurt it is.
+ gym
gym gym gym gym.  i've been so good for the past month! i don't want to break my every-other-day streak TOO badly, even though it's been three full days since my last workout.  whatever. i walked to and from harvard yesterday and that's a full 40 minutes, that's something, right? haaa.
+
get on mah
BIKE!!!
i bought a u-lock yesterday! i'm in business!  i still have to borrow mikey's tire pump because mine are compleeetely flat, but after that i am a biking fiend.  (please keep your fingers crossed that i don't meet my demise on somerville ave/elm street/mass ave.  pleeease.)
+ clean.
seriously.  i can't find my camera and i have a feeling that it's hiding in the mound of clothes that's accumulated atop my giant blue chair in my bedroom.  i have the charger and the battery, just not the camera.  wtf.  i'm hoooping that it's not lost because i can't afford to drop a couple hundred bucks on a point-and-shoot right now, and i
really
can't drop a few hundred bucks on a gorgeous beauty like jessie's new toy, as much as i want a sick ass camera of my very own.  so, long story short, today will be the day that i sweep, dust, fold, wipe down, brush up, and vacuum my apartment... until that little canon bastard is found. 
+ make some new playlists.
 i've acquired some new tuneage as of late, including the shout out louds, lake street dive, the love language and a bunch of other bands that i've either seen lately or heard great things about.  i'm getting sick of my usual "sunny" and "springy" playlists and i'm getting tired of my longstanding iTunes favorites.  any recommendations, music-savvy friends?
+ do something green.
 it's earth day, people!  go do something good for the environment!  chances are my green activities for the day will consist of choosing to walk everywhere as opposed to taking public transportation and i'll most likely bring my own bags to the grocery store, but for those of you heading out of town in the near future, check out andrea's list of green travel ideas over at the
cheapflights.com blog
.   give it a click and while you're there check out a few of my old travel guides, haha.  (i wrote a particularly riveting one on reykjavik, so check that out if you're still going through with that crazy icelandic weekend adventure, marc.)
+ cook dinner.  
i've been eating out entirely too much lately.  for some reason i feel like experimenting with pork chops or something. we'll see.  i should be eating more brown rice instead of french bread.  that's just a sidenote.
what're you guys up to today?  anyone feel like drinkin' beers and playing guitar on my roof later?